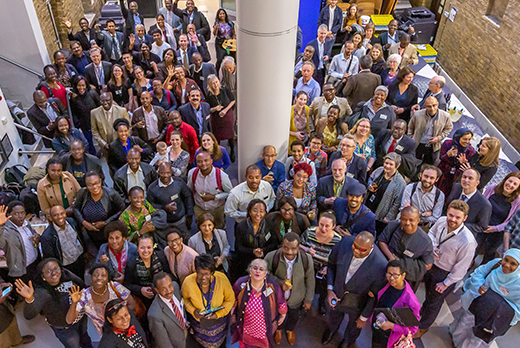 The challenge
Worldwide, 1 in 11 adults (425 million people) have diabetes. Three quarters live in low- and middle-income countries (LMICs). This number is dramatically increasing due to lifestyle changes, population growth and ageing.
Diabetic retinopathy (DR) is the leading cause of preventable blindness among adults of working age, occurring in almost 75% of people with diabetes within fifteen years of diagnosis. Sight loss from DR can be prevented through good diabetic control, annual screening of the eyes for signs of DR and timely treatment.
The solution
The Diabetic Retinopathy Network (DR-NET) was formed in 2014 with the aim of building capacity in LMICs to establish integrated DR screening programmes to photograph the eyes of people with diabetes in order to identify and treat those with sight-threatening disease. The DR-NET is built on the foundations of the VISION 2020 LINKS Programme where eye teams in LMICs and the UK work together to build capacity to tackle the priority eye health needs of the LMIC partner. There are now 36 DR screening partnerships in the network representing 17 countries in Africa, Asia, the Caribbean and the Pacific.
The goal of the DR-NET is to reduce unnecessary blindness from DR in LMICs, through policy engagement, capacity strengthening activities and context-specific research. These are leading to the establishment and provision of sustained, high-quality DR screening and treatment services to serve people with diabetes in LMICs in the coming decades.
The DR-NET focus areas are:
Support the development of national frameworks and guidelines for DR services

Coordinate the development of integrated DR screening and treatment services

Support the acquisition and maintenance of essential technology and infrastructure for DR

Deliver clinical skills training and knowledge exchange to develop multidisciplinary DR teamwork
Through this website DR-NET members will be able to register and attend the different capacity-strengthening activities delivered through the DR Grading Grand Rounds and the DR-NET Workshops.
More information on ICEH capacity development programmes can be found in LINKS – ICEH (lshtm.ac.uk)