This website enables DR-NET members to participate in online capacity-strengthening and training activities delivered by the International Centre for Eye Health at the London School of Hygiene & Tropical Medicine and its international partners.
It serves as a platform for hosting DR-NET meetings and enhancing collaboration and sharing of information within and between participating countries. It also provides information, resources and publications relevant to health workers who are involved in the diagnosis and treatment of patients with diabetes and DR globally.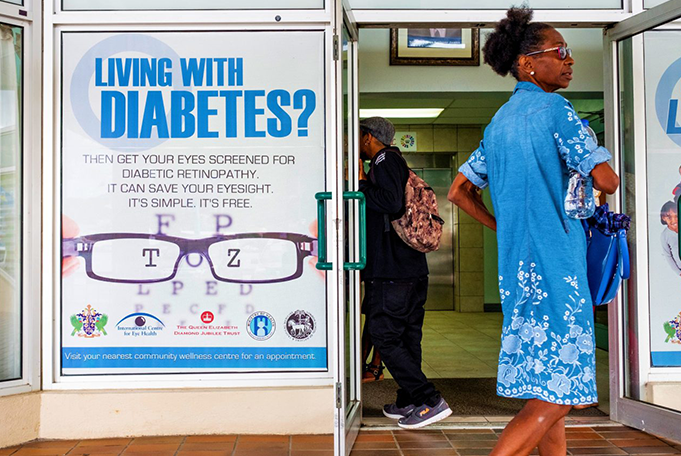 Our Mission
DR-NET was established to reduce unnecessary blindness from diabetic retinopathy in low- and middle-income countries (LMICs), through policy engagement, capacity-strengthening activities and context-specific research. 
These are leading to the establishment and provision of sustained, high-quality DR screening and treatment services to prevent blindness in people with diabetes in LMICs in the coming decades.
For further information, click here
News
Diabetic Retinopathy Services and Research in Africa
This supplement recently published in Eye includes a compendium of articles written by research teams working in diabetic retinopathy in sub-Saharan Africa. Studies from Ghana, Uganda, Tanzania, and Kenya cover different aspects of the eye health system in relation to the delivery of DR services.
To access all the articles go to this link, or find them in our publications page.
What People Say
With our newly-expanded eye services, and greater public awareness of DR and other causes of blindness, we will be able to achieve our goal of preventing unnecessary blindness throughout the island of Dominica.
ophthalmologist, Dominica Read more testimonials
I have learnt how to successfully hold a community eye clinic, learnt about different eye diseases and what causes them. I came to know that elimination of blindness does not necessarily require a specialist eye health worker, as everybody has a role to play.
community health worker, Uganda Read more testimonials
This website has been supported by a grant from Roche Products Limited. Roche Products Limited has had no involvement or control over the development, maintenance, and the content of this website.